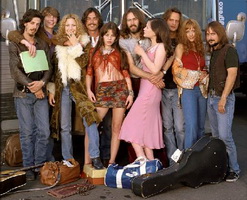 2007 was great year for movies (even though the studios try to cram all the prestige pics into one overstuffed month) and Eric and J.D. have each compiled their list of the best films of the year. What's really bizarre is that they actually agree on #1!
J.D. also has added the first Top 10 List of 2008, a tribute to musicians real or imagined. (Hint: one of them is in the photo to the right.)
There's also a new on-camera Instant Review of the new teen pregnancy flick "Juno,"compete with clips from the movie.
Head on over to Scene-Stealers to check it all out.