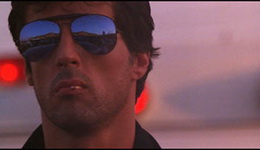 In this Top 10 list, compiled by our very own J.D. Warnock (reveling in the nostalgia for his youth), doesn't get you excited for his upcoming review of the brand new "Rambo" film* , then what will?
Let's briefly put all our Oscar talk on hold for the man of the week and his greatest moments on film — Sylvester Stallone.
*John Rambo had a disappointing weekend at the box office, getting beat by a Carmen Electra movie. That's a sad indication of the state of the Union.