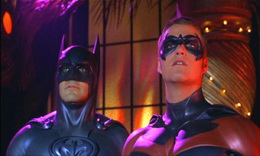 Sure, "Iron Man" opens this weekend, but we have a special Top 10 Tuesday list for you today to remind you of the pitfalls of summer. It's superhero season again, but for every "Spider-Man" and "X-Men," there's always got to be a less-than "Fantastic Four."
Here's a guide to the worst comic book movies ever made, courtesy of Eric. Lots of hilarious movie clips and photos are embedded in the links, so have some fun and take an unforgettable journey into the forgettable world of lame-ass comic book adaptations.
Click here now, if you dare. We're also giving away a fancy new LG VCAST cell phone!