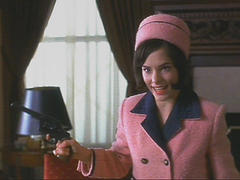 Looking for a Thanksgiving movie list that's a little off kilter? Well, we've got it.
The disturbing and depressing mix with the delightful and heartwarming on this list of Top 10 Thanksgiving Movies. I wrote it a while back and looking at it today, I'm pretty proud of it actually. The films on this list are definitely not all the type you'll want to watch with the whole family, so read carefully before bringing out one of these DVDs after your big family dinner.
This year, I'm on my own, so I'm pretty excited to stay in and revisit some of these movies that I haven't seen in a long time. Hope you dig my list of Top 10 Thanksgiving Movies and have a happy Thanksgiving!