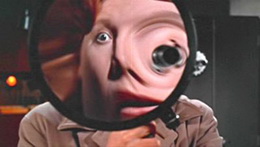 I worked at a video store once, and Halloween was always the most annoying time of the year because everybody came in and rented every stupid horror franchise that started off in theaters and ended up with a disappointing run of straight-to-video releases. Getting people to rent something outside of Freddy Krueger/Michael Myers/Jason Vorhees movies was near impossible. When they ran out of those films in those series, they'd move on to even lesser, tapped out franchises. My favorite exchange with an actual customer:
"You got the first Chucky movie?"
"Yeah, here it is. It's called 'Child's Play.'"
"No, Chucky, man. Chucky! The first one."
In the spirit of finding you some new horror movies to rent for Halloween, I present one of the most popular lists ever written here at Scene-Stealers (one that contains no Chucky), my Top 10 Overlooked Horror Movies. Enjoy!