valentine's day cards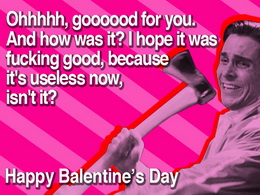 We have some awesome Valentine's Day E-cards for you starring our beloved Christian Bale. We like to call them Happy Balentine's Day greetings!
Being the pop-culture aficionados we know you are, we thought you might enjoy these uncensored bits of Internet joy. They truly are the perfect little treat to show your dearest love – or your most hated enemy – just how much you care! And they're only available from your good pals at Scene-Stealers. Get your own Happy Balentine's Day card here.
{ 0 comments }